ë design studio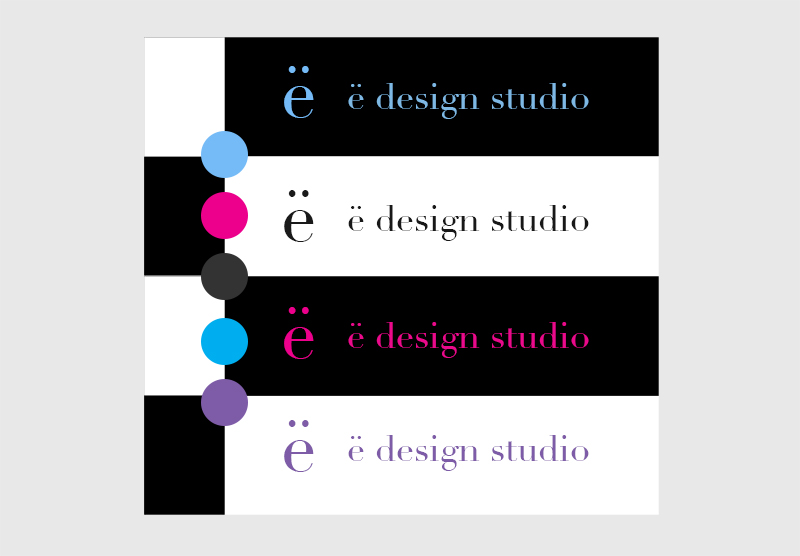 Client Overview
Like all clients, my own story is always evolving. When I first started "doing graphic design," I started out with a completely different name, and a completely different set of colors and branding. Circumstances being what they are, I ended up re-branding myself, and ended up with something that is a lot more "me"… with a deep, hot pink, capital ë.
Inspiration is everywhere! And I'm inspired by a lot of things: the 1930s and 1940s, classic and iconic style shown such as what we've seen people like Jackie Kennedy or Audrey Hepburn wear. The biggest key to knowing what it is my client is looking for, is knowing how to filter out the noise in order to pinpoint exactly what works.
Branding and Logo Design:
Being my own client means I also get a full set of branding materials! I believe I've captured that elegantly classic style. My signature colors are a deep charcoal, and vivid pink, along with a second set of colors consisting of soft purple, and light sky blue… Overall, I think the look is classy and elegant.
Print Design:
Just as I have done for others, I've created multiple items for my own business: business cards, social media icon, a Getting Started guide (which is currently in revision) to name a few. The possibilities are endless!
Website Design:
I couldn't get away with writing up my own case study without talking about website design. I truly love this part of the work I do. It's really fun to be able to experiment on my own website, on my own computer. I'm always testing and trying new things so I can be certain I'm giving my clients the best designs, the best plugins, and the best service possible!
As a side note:  For those who are curious as to why I used the umlaut "e" (the e with the two dots), my middle name is Noël, with "two dots over the e".