Trouble with Trebles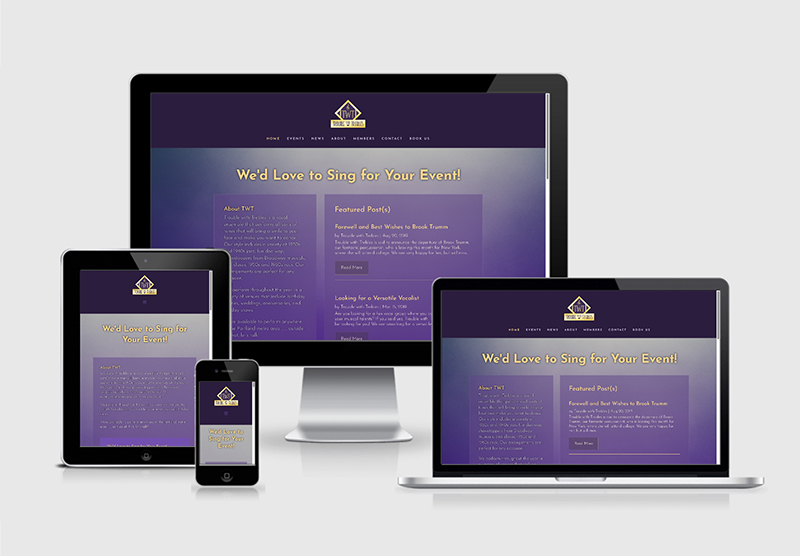 Client Overview
Trouble with Trebles is a vocal ensemble that performs all sorts of tunes that will bring a smile to your face and make you want to dance! Their style includes a variety of 1930s and 1940s jazz, fun doo-wop, showstoppers from Broadway musicals, and classic 1950s and 1960s rock. Their arrangements are perfect for any occasion.
I took on this project in part because I'm in the group, but even more, because I wanted us to put our best foot forward, both on and off the stage.
Updating and expanding our image:
Trouble with Trebles (TWT) is always working on expanding and growing musically. So it stands to reason that occasionally the group decides to update their image. Read more about the process.
Branding and Logo Design:
While TWT has it's musical sound all set, we knew that it was time for an image refresh. The music the group performs led me to do a study on design as it relates to music from the early 20th century. I picked five concepts to share with the group, but one immediately stuck out, and that was a diamond-shaped art-deco style, badge logo. The logo is very reminiscent of logos found on posters from the 1930s and 1940s and lends itself to the classic flair of that bye-gone era. The group's signature colors are gold, purple, black, and dark grey. We are constantly working on our style, and, in the future, are looking at getting "period" style performance clothing – similar to the wonderful clothing found in the 1930s and 1940s.
Print Design:
After the logo was complete, we needed business cards. We decided to go with double-sided glossy cards. Then we decided to create a large sign which we put up near the stage when we perform. I also design the posters, flyers, handouts, and programs for various performances and occasions.
The Website:
Initially, I built a very basic one-page website. Then I built a second more expanded website which had performance dates, group information and member biographies, our group history, and photos. I also created some fun avatars for each group member.
Recently I migrated the website over to WordPress. It now has a better news section, photo galleries, and videos of our performances, and special songs. We've also added a better booking and contact form process, making it easier for people to reach out to us for information or to book us to perform.
Ready to grow your business?